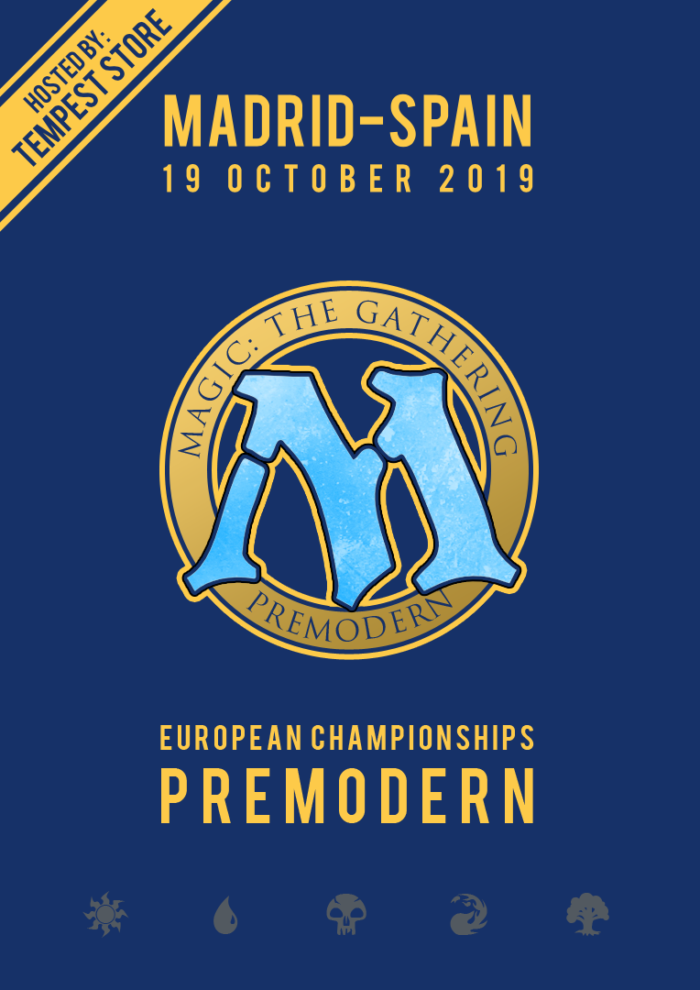 Update 2019-10-15: Added info about time and place for dinner on Friday.
Update 2019-10-13: Added info about Sunday side events.
Update 2019-09-29: Added info about prize support for main event and booster draft on Friday.
Quick facts
When? Saturday 19 October (+ side events on Friday and Sunday). Registration 10:00–10:45 AM.
Where? Tempest store, Calle de 

Timoteo Domingo, 17, 

Madrid, Spain. Link to map.
How? Pre-reg is required, see form below. Cost 35€.
Welcome to the European Championships in Premodern 2019
Welcome to the second edition of the European Championships in Premodern 2019! Do you have what it takes to take home the trophy of the most prestigious Premodern tournament so far? This year's tournament is hosted by Tempest Store—a large MTG store in central Madrid—and co-arranged by Francisco José Cumplido Rica, founder of the Madrid Premodern League (site in Spanish). The league gathers around 20 twenty local players in their monthly tournaments, making Madrid one of the largest Premodern communities and thus a perfect place for a tournament like this.
Last year's Euro Champs in Genoa, Italy, attracted 43 players, but the format has grown since then. Due to the expected large interest and a cap of 80 players at the venue, we require pre-registration on a first-come-first-serve basis, using the form at the bottom of this page. In the case that the registrations should exceed the player cap, we will use a waiting list.
The tournament format is Swiss (preliminarily seven 50 minute rounds with a lunch break after three rounds), followed by single-elimination top 8. Online registration of decklists is required and the deadline for this will be set 24 hours before tournament start (registered players will receive more info via e-mail). Hence, you can skip the last-minute deckbuilding stress and join for some casual side events on Friday instead. 🙂 For those of you who are around on Friday night, there are also plans for a dinner close to Tempest store (indicate interest when registering). Update: we'll go to Mad Brewing for dinner and drinks on Friday. We'll gather at Tempest store 19:30 and go together from there.
You can expect some great prize payouts and raffles in the form of Premodern staples, old boosters, and of course the winner's cup and all the glory that goes with it. Moreover, each participant will get a token and the winner will also get a playmat, all of which are exclusively designed for the occasion. See more details about the prizes in this document.
We hope to see you there!
– Martin and Francisco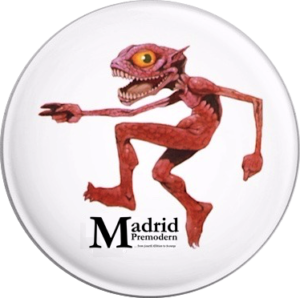 Side events
To make the trip worthwhile for international players, there will be several side events throughout the weekend. The side-event schedule is (preliminarily) as follows.
Friday
Throwback drafts starting from 15:00 (first come, first-serve). There will be two eight-person drafts (English language product): Odyssey/Torment/Judgment and Onslaught/Legions/Scourge. Cost: 45€. The winner and the runner-up of each draft will get 25€ and 15€, respectively, in the form of tix to be spent on the prize wall.
Legacy FNM "Legacy is dead", start 17:30, cost 5€
Sunday
Premodern, start 12:00, cost 10€. Four rounds of Swiss. Players with result 4–0 get 40 tix to spend on the prize wall and players with 3–1 get 20 tix.
93/94, Atlantic rules (reprints with the old frame and original artwork + Revised allowed, drawn matches will be determined by Chaos Orb flips), start 17:00, cost 15€. Four rounds of Swiss. Players with result 4–0 get 65 tix to spend on the prize wall and players with 3–1 get 30 tix.
Coverage
For those of you who can't make it this year, the main tournament will be live-streamed with commentary together with Gordon Andersson, at twitch.tv/wakwakmtg.
Getting around in Madrid
Check out Francisco's "Madrid survival guide for Premodern players" with basic info about getting around in Madrid.
Pre-registration
Registration is closed.