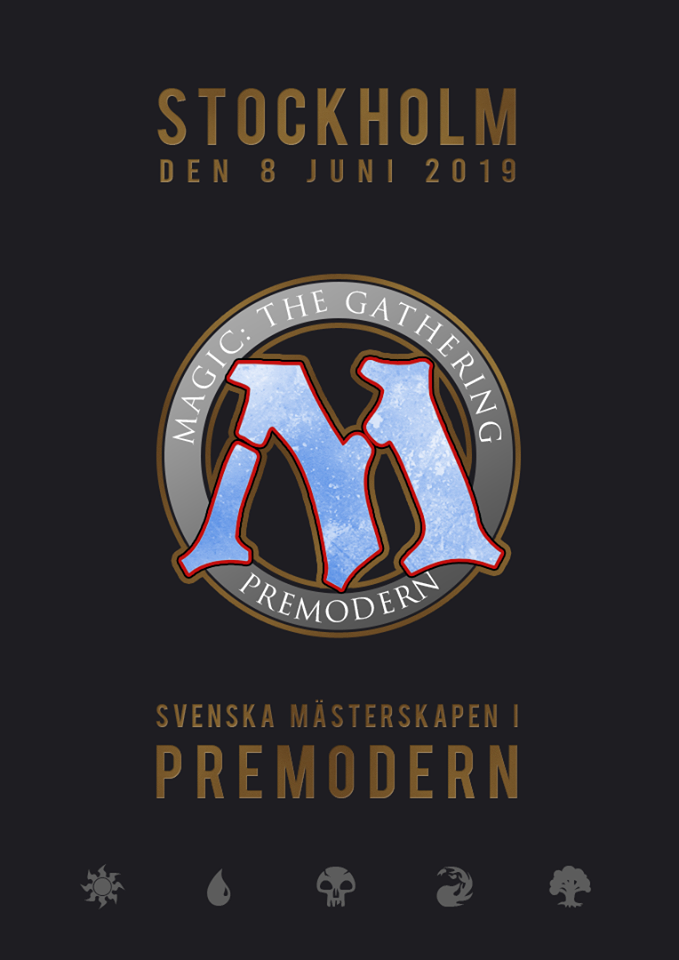 Please see info in English below.
Uppdatering 2: Extraturneringen på söndag blir på Biljardpalatset på Kungsholmen, kl 11, se mer info i texten.
Uppdatering 1: Vi har bokat en ny större lokal (i samma område) med 46 platser. De personer på väntelistan som erbjuds plats får en bekräftelse via e-post. Se alla anmälda och resterande väntelista här. Mer info om registrering av lekar kommer här och på e-post.
Snabbfakta
När? Lördag den 8 juni. Registrering 10:00–10:45.
Var? Ramvägen 1 Knektvägen 11, Enskede, Stockholm. T-banestation Gubbängen. Länk till karta.
Hur? Föranmälan krävs, se formulär nedan. Kostnad 250 kr. Swisha till 0736-163646.
Välkommen till SM i Premodern 2019
Välkommen till den andra upplagan av de svenska mästerskapen i Premodern! Har du vad som krävs för att ta hem årets trofé? Formatet har växt sedan senast, så vi satsar på en aningen större turnering än förra året. Det finns ett tak på 36 46 spelare, och det krävs därför föranmälan (se formulär längst ned på denna sida) enligt principen först till kvarn. När alla platser är fyllda kommer det att skickas ut en bekräftelse via e-post om man har fått en plats eller inte. Om du inte skulle få plats ställs du på väntelista och kommer att bli kontaktad om det frigörs en plats. Se anmälnings- och väntelista här.
Turneringsformatet är swissgruppspel (preliminärt sex st 50-minutersrundor med lunchpaus efter andra rundan) följt av top 8. Osäker på hur Humility fungerar tillsammans Mishra's Factory? Ingen fara – då kan ni fråga Jacob Malmström som är domare för dagen (level 2). Alla spelare kommer att behöva registrera leklistor i digital form i förväg. Mer info om hur kommer via mejl.
Det kommer finnas möjlighet till spel hela kvällen även för de som inte går vidare till slutspel. Förfriskningar i någon form kommer att finnas att tillgå under dagen.
För de som är kvar i stan blir det även en sidoturnering i Premodern på söndag. Den kommer att spelas i pubmiljö på Biljardpalatset på St Eriksgatan 52, Kungsholmen (t-banestation Fridhemsplan, länk till karta). Vi drar igång så snart som möjligt efter att de öppnar kl 11:00. Ingen anmälan behövs—det är bara att dyka upp, ta en öl och spela. Planen är att detta blir en kortare turnering med enbart Swiss (och ev. final).
Och för er som inte är på plats så kommer turneringen att livestreamas tillsammans med Wak-Wak. Streamen hittar ni på twitch.tv/wakwakmtg och den startar samtidigt som turneringen.
Väl mött!  – Martin
—
Update 2: The extra tournament on Sunday will take place at Biljardpalatset in Kungsholmen, 11 AM, see more info in the text below.
Update 1: We have booked a new larger venue (in the same area) with 46 seats. Those on the waiting list who are offered a slot due to this are informed via e-mail. Se all registered players and remaining waiting list here. More info about deck registration to come.
Quick facts
When? Saturday 8 June. Registration 10:00–10:45 AM.
Where? Ramvägen 1 Knektvägen 11, Enskede, Stockholm. Subway station Gubbängen. Link to map.
How? Pre-registration is required, see form below. Cost 250 SEK.
Welcome to the Swedish Nationals in Premodern 2019
Welcome to the second edition of the Swedish National Championships in Premodern—folks from outside of Sweden are welcome too! There is a cap of 36 46 players. We therefore require pre-registration (see form at the bottom of this page) on a first-come first-serve basis. You'll receive an e-mail confirmation whether you have a slot or not, when all slots are filled. If you don't get a slot immediately you'll be put in a line and you'll be contacted if a slot becomes avaliable. See registered players and waiting list here.
The tournament format is Swiss (preliminarily six 50 minute rounds with a lunch break after two rounds), followed by single-elimination top 8. Not sure how Humility and Mishra's Factory work together? Don't worry—you can ask Jacob Malmström, the judge for this tournament (level 2). All players need to register decklists in digital form in advance. More info about how will be sent via e-mail.
There will be opportunities to play during the night, also for those not making the top 8. Refreshments of some sort will be available throughout the day.
For those of you who stay in town there will be a less formal Premodern tournament on Sunday too. It will take place in the pub Biljardpalatset on St Eriksgatan 52, Kungsholmen (subway station Fridhemsplan, link to map). We start as soon as possible after they open at 11:00 AM. No registration is needed—just pop up, have a beer and play. The idea is to make this a shorter tournament with only Swiss (and perhaps a final).
And for those of you who won't be there, the tournament will be live-streamed together with Wak-Wak. You'll find the stream at twitch.tv/wakwakmtg and it will start when the tournament starts.
Cheers! – Martin
Föranmälan / Pre-registration
Registration is closed.