The purpose of the Premodern Magic Community Award is to acknowledge someone who has done something extra for the Premodern format and its community in the past year. The 2018 award went to Matteo Caravatti from Italy, and the 2019 award to Francisco José Cumplido Rica from Spain, and the 2020 award to Andrew Walker from the US. There was no award in 2021.
The 2022 Premodern community award goes to Anton Glans, for his contributions as an organizer, content creator and a positive force in the local and the global Premodern community.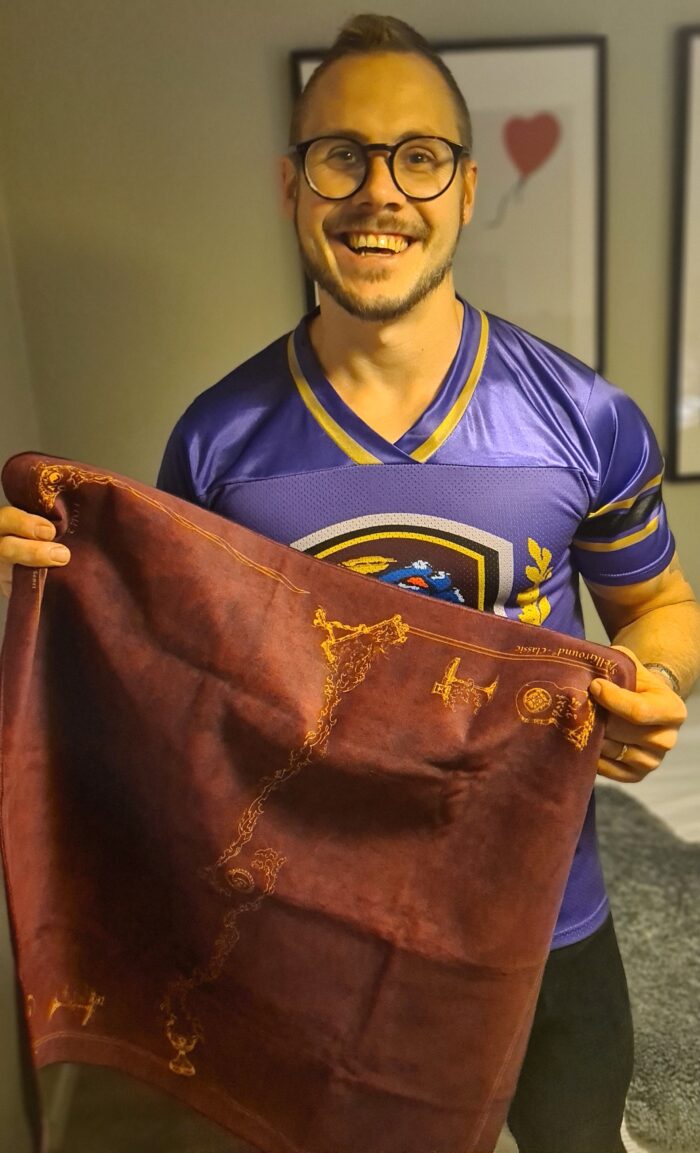 I announced the award in person at the European championships last weekend (to Anton's surprise!), where I also handed over a two-player Spellground mat from Khalsa Brain, as is now the tradition. Keep reading for the the full motivation, followed by a short interview with Anton.
Motivation
Anton Glans has been a pillar of the Swedish Premodern scene from the very start, notably organizing the Premodern Easter championships (reports from 2019 and 2021) in Gothenburg for several years in a row, as well as the Northern Sweden championships (reports from 2019 and 2020).
Anton is also very much a part of the global Premodern community. Last year, he was a co-organizer, co-producer and participant in the online event the European Premodern Invitational Challenge, aka EPIC (see the decks played here). Anton also put a lot of work into organizing the Euro champs both last year and this year.
Anton is not only an organizer, though, but also a multimedia content creator. We've mentioned the EPIC videos already, but long before that Anton was also guest-writing for the Premodern Magic blog. Lately he has been dominating the audio format, spearheading the Premodern part of the Monsters of the Week podcast (together with Seb).
Last but not least, Anton has been a frequent participant in the online tournaments, and a commentator in the Premodern social media channels. Always with lots of energy and always spreading positive vibes, a Force of Nature of sorts. Given his strong (literally!) presence in the community, we could perhaps also call him The Rock of Premodern.
Interview
Martin: Who is Anton Glans? 🙂
Anton: I'm your typical married-35-year-old-father of two lovely kids-guy. I live in Örnsköldsvik, a small town in northern Sweden. Professionally, I just entered the last year on my PhD in MRI acoustic noise reduction, and I also work clinically as an MR radiographer. I do CrossFit and coach at our local CrossFit gym. I'm a big film enthusiast, love fishing and outdoor life, and I spend an unhealthy amount of time playing Premodern.
Martin: Tell us about your "Magic journey"!
Anton: I dabbled into Magic as a ten-year old when Urza's Saga was on the shelves. We played sleeveless on the ground, without any real understanding of the game. Rubber band was the equivalent of a deck box and green was the best color because biggest monster clearly wins. Three years later, I started playing at a gamestore and was introduced to the Extended format. I was intrigued by the idea of a format with structure, a banlist and rules, so I started playing smaller tournaments and gradually got a sense of the game. I played Standard around Invasion and Odyssey block but then I took a break when Mirrodin was released in 2004.
When I returned five years later, in 2009, Extended was replaced by Legacy, and that was my go-to format for years. Gradually, I was introduced to Vintage by friends and the godly content Vintage Super League. I became a combo player and never looked back. Vintage was of course a gateway to 93/94, which I enjoyed for its relaxed community. Then, in 2016, I read an article from a Martin Berlin about Premodern.
Martin: So that's how you got into Premodern..?
Anton: Yup, after reading your article, I was hooked and started brewing immediately. I just knew this was the format I've been longing for. Back in old Extended, I played a GB Secret Force deck with Pernicious Deed and Natural Order. Naturally, this was my first deck I put together for Premodern. Card prices were really cheap in 2016 for most Premodern era cards so I just kept building decks, and had friends all over Sweden doing the same.
Martin: Do you have any particular favourite archetypes and cards in Premodern?
Anton: Combo is my favourite archetype, but since Storm is semi-banned because of Tendrils of Agony, I've been enjoying Elves and Replenish the most. I can't really say no to The Rock or certain prison strategies either.
Martin: You are receiving the community award partly due to your contributions as a tournament organizer, and you have arranged both smaller tournaments in Sweden and the Euro champs with 100+ players two years in a row. Do you have any advice or experiences you want to share to other (aspiring) organizers?
Anton: Start small. Build a community locally and take it from there. 🙂 If you already have a community? Just throw an event! Do not get disappointed if "only" 6–10 people show up. It's still meaningful! People took their time off to attend this! Do not compare to others. 
If you aspire for bigger tournaments, don't be afraid to reach out to other senior organizers or community profiles and ask for advice, or ask if you can help with their upcoming event. I can't stress enough how important collaboration and creating a network is—throwing a tournament is all about teamwork. Eventually, you will come to a point when you realize that it's impossible to please every player's idea of what the perfect tournament should constitute. So focus on what type of tournament you and your organizer team would want to play in. Personally, I think prizes are extremely secondary and rather focus on judges, scorekeeper, venue, food/drinks, or whatever makes the tournament run smoother and/or enhances the social experience. Still, I fully respect those who have other preferences and hosts their events accordingly. I'll gladly play that too.
With that said, I would have never been able to organize events without the help and dedication from a lot of other people. I'm forever grateful to have gotten the opportunity to work with so many amazing individuals. As such, me receiving this award is largely due to them. You know who you are, and you all have my biggest love and respect. Thank you <3.
Martin: Thanks for your time Anton, and thanks for your contributions to the Premodern community!
Until next time!
– Martin