Every now and then the Grand Prix circus hits town, and I figured that this time was a good opportunity to gather some Premodern players from places far away for a casual tournament. I opted for day two, Sunday the 16th of September, since this would allow those who didn't proceed in the main event to participate. With 20 persons showing up, it was actually a larger tournament than the Swedish Nationals (18 players), but with a little less glory at stake this time. The atmosphere was really chill. Yet, it was fun to feel the surrounding pulse of the GP, and there were many curious spectators taking interest in the format.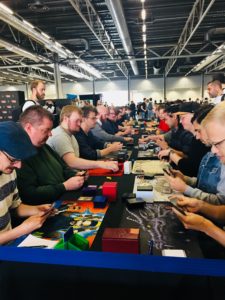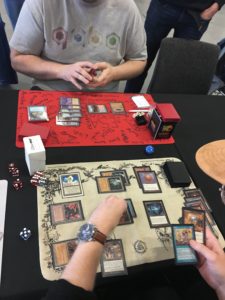 First round starts (left), Jonas Stattin tinkering (right)
We played five rounds of Swiss, followed by a top 4. Let's jump right to the field of decks:
2 Sligh
1 Goblins
1 Bargain Storm
1 Full English Breakfast
2 UW Standstill (one UWr)
1 Four-Colour Control
1 UW Squee Control
2 Stasis
1 Lands
1 Tinker
1 Suicide Black
1 Angry Hermit
1 The Rock
1 Rector-Rebirth
1 UG Madness
1 Opposition Merfolk
1 BW Arena
A diverse starting field indeed. A few well-known archetypes were not to be seen, e.g. Enchantress which took down the Swedish Nationals and placed another player in the top 8. But given the broad range of viable decks out there, I wouldn't expect all major archetypes to be represented in tournaments lacking a critical mass of, say, 30 players.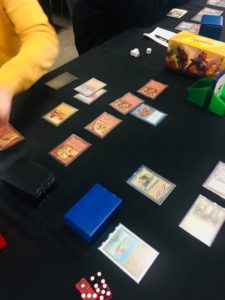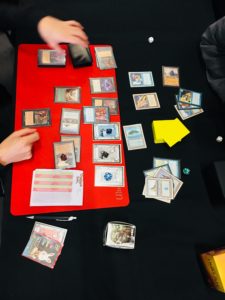 Per Rönnkvist swarms Joakim Jansson with Goblins (left). Per Algander doing Per Algander stuff with Bargain Storm versus Stasis (right).
After five rounds, Per Rönnkvist, Jeff Ecklund, Per Algander and Joakim Jansson ended up in the top 4. The finals was a red affair, with Jeff's Sligh winning 2–0 versus Per's Goblins. Here are the the top 4 decks:
These are rather well-known archetypes, at least if you've had an eye on the decks gallery and this blog. It was nice to see two combo decks here though, along with the red menace. If you fancy the Full English Breakfast deck, make sure to check out Joakim Jansson's previous guest post about it.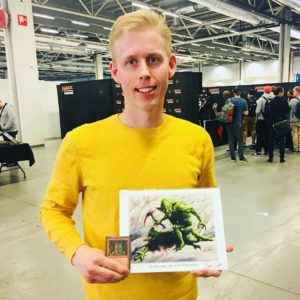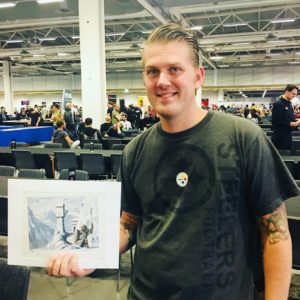 Runner-up Per Rönnkvist (left) and winner Jeff Ecklund (right) and their Premodern art print prizes—Survival of the Fittest by Pete Venters and Kjeldoran Outpost by Jeff A. Menges
Since I know that you love decks, here are the remaining ones, in no particular order (except two that I did not receive complete lists for, I'll add them to this post if I do).
I hope this has your head spinning with deck-building ideas for a while. Next up is the first edition of the European Championships in Premodern, taking place in Genoa on October 28 at the Fishliver Oil Cup (which also has a large 93/94 tournament the day before). I've booked my tickets and I'm REALLY excited about this! 😀 It's going to be the largest event so far by a large margin and I hope that I can meet many of you there. And for those of you who won't be able to attend, plans are in the makings for coverage… Until then, see you in the Facebook group, on the Premodern Discord and on Instagram.
Cheers! / Martin