The first Italian National Championships in Premodern were held on Sunday the 26th of August, hosted by the local game store Gamic in Massa, Tuscany. With 24 players, it was the largest Premodern tournament held so far. Not surprising, as the Italian Premodern community has grown rapidly lately, having the largest national playerbase at the moment.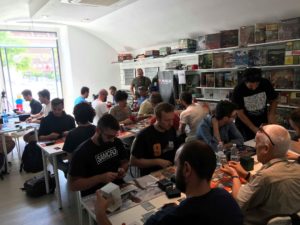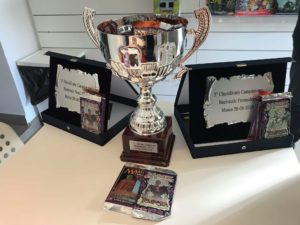 Glory, a grandiose cup and Premodern boosters were at stake. The winner was also granted free entry to the European Championships in Premodern to be held in Genova, Italy on the 28th of October, hosted by Fishliver Oil Cup. (More about that in a future post, but you can pre-register for the tournament here already.)
Five rounds of swiss were played, followed by a top 8. The field of competing decks looked as follows:
4 Sligh
3 UW Standstill
3 The Rock
2 Goblins
2 UG Madness
1 Astral Slide
1 Recurring Survival
1 Reanimator
1 Aluren
1 4C Control
1 Stasis
1 UB Zombie (?)
1 BUG Control
1 WW Land Tax
1 Mono G Stompy
A pretty diverse field, but notably no Trix, no combo decks based on Yawgmoth's Bargain and no Enchantress, the deck that won the Swedish Nationals a few months ago.
At the end of the day, Stefano Mannella came out on top with his UW Standstill deck. (This deck should be familiar for those who have browsed the deck gallery of this website, as the version listed there only differs by two sideboard cards.) He thereby became the first Italian national champ—congratulations! 😀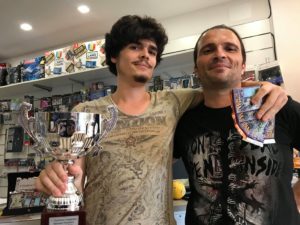 The champ. Flanked by the store owner and organizer Marco Mazzei, who also made it to the top 8.
So, you came just for the top 8 decklists? Ok ok, here we go:
All in all, a fairly well-rounded top 8, with two classic control decks, three aggressive red decks and two midrange decks. Lorenzo Novaro's Stasis deck, which he piloted all the way to the finals, stands out as more rogue. If you want more inspiration for that archetype, make sure to check out Andy's latest column.
Cheers! / Martin